How many and which type of trees are planted with the Net Zero Website label?
The Net Zero Website smart label automatically plants a new tree every 45,000 views approximately. The default tree is planted in Madagascar.
As soon as you install the Net Zero Website smart label in the footer of your website, it will start calculating the CO2 emissions of your website.
With this label, approximately every 45,000 pages viewed, a new tree will be planted to offset the emissions of the pages viewed and the tree will automatically be added to your forest.
The species planted is a Bruguiera gymnorrhiza in Madagascar. Below is an example of a tree planted with the CO2 label and the message that appears with it in the forest.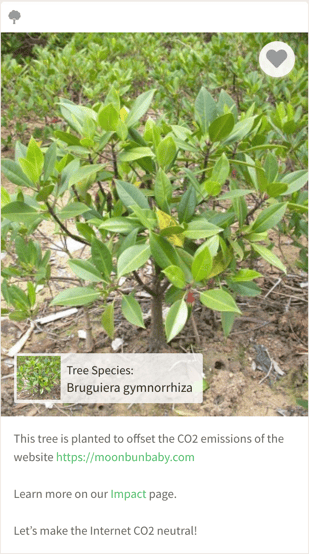 This service is entirely free (trees included) except for very large websites with a total page viewed per year superior to 10 millions. Above 10 millions, please consult us.