Installing your Net Zero Product is just the first step. To make your campaign effective, you will want to prepare your communication accordingly. We'll show you how.
What shall you do when you have created your forest and installed your Net Zero Product program into your e-commerce? The next step is to align your communication on your 1 product 1 tree commitment. Letting your customers know may increase your sales, especially for new clients so it's important you get your communication started.
Please first review our main communication onboarding to discover the best practices for your communication.
In this article, we will look at the specific communication elements that are related to our Net Zero Product service.
Product page
Add a mention on the product page, e.g. 'This product plants a tree'.


A recent study about e-commerce has shown that the revenue per customer increased by 7,8% when the product page was informing that a tree was planted with the product. The effect was stronger on the new user segment, which increased to 24%.
We recommend that you inform your customers about the positive impact that their purchase has on the environment and about the next steps that relate to your tree gift.

Here is an example:
'We plant a tree for every product you buy. You will receive an email from our NGO partner Tree-Nation, dedicated to fighting climate change, including the planting certificate and more information about the reforestation projects that [your company] supports.'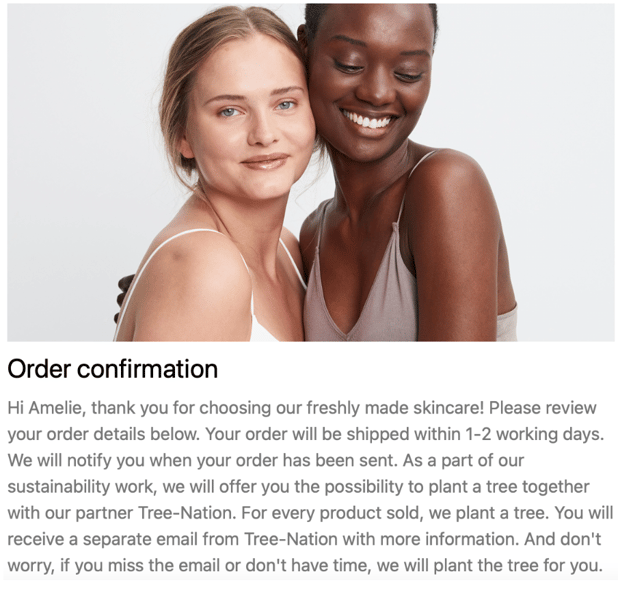 Visit the forest of Skinome
By adding your commitment to your confirmation email, you can be sure that your customers are fully aware of your initiative to fight climate change by reforestation and appreciate the opportunity to plant a tree in your corporate forest.
Video tutorial - Net Zero Product experience
Source: https://www.market.surf/
We invite you to read the following articles to make the most out of your communication: