In order to celebrate Earth Day, we brainstormed a number of powerful campaigns and commitments your company can take on to demonstrate environmental leadership.
#1 - Plant 365 trees to celebrate the year
As Earth Day is an annual event that celebrates environmental awareness and influences new sustainability initiatives around the world a brilliant commitment to take on would be to plant at least one tree for each day that passed since the last Earth Day or plant a tree every day until the next Earth Day.
This way rather than thinking about preserving our environment once a year, we can remind ourselves of how crucial it is to think long-term about our habitat every day!
Remember it is always nicer to share a tree as a gift rather than to plant it for yourself as it allows us to share environmental awareness with more people.
We highly recommend that you offer the trees to your customers to show that you care about them and the environment at the same time.
So make sure to customize each tree gift to remind the people you plant for about Earth Day!
#2 - Use Earth Day to announce a new environmental commitment
Environmental commitment from companies is something customers are beginning to expect. Being a sustainable company is no longer the cherry on the cake, instead, it is the cake.
In order to highlight your company's contribution to the future Earth Day is the perfect event to announce a new commitment.
Whether you want to ditch a plastic product from the office, carpool to work or offset the CO2 emissions of your products, team or website with one of our services, taking at least one extra step towards sustainability is infinitely better than taking none.
Make sure you pick at least one and tell everyone about it on the 22nd of April!
#3 - Start a social media # campaign
Why not also get your fans involved in an environmental campaign across social media?
We recommend committing to plant a tree for every time that your fans post a photo with a tree using the #PlantaTreeForEarthDay hashtag and tagging your social media profile.
You can even ask them to DM their emails to you so that you can send each tree you plant to them as a virtual gift!
There are not many better ways for building an eco-conscious customer base than this!
#4 - Send An Earth Day tree to every employee
A company's actions are defined by its' culture and there are not many easier ways to create an eco-conscious culture than by showing all your employees that your company is committed to preserving the environment.
A few days before Earth Day make sure to offer a tree with an Earth Day design and message to all of your employees and schedule it for the morning of April the 22nd.
That way the first thing your employees will see in their inbox when they open their emails at work is the tree gift you sent them for Earth Day!
This is an entertaining way of starting a new company tradition that your employees will enjoy!
Before starting your own campaign, consider joining our one!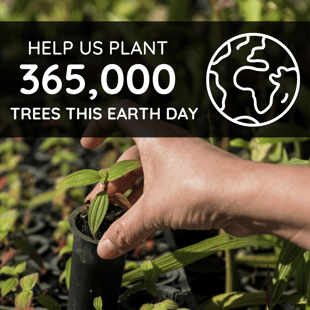 We are on a campaign to plant 365,000 trees by the end of Earth Day.
That is one thousand trees planted for every day between Earth Day 2021 and Earth Day 2022 to remind everyone that every day is Earth Day!