This integration allows you to offer a tree each time a customer buys a product. Completing this integration will take you just a few minutes. Once completed, the system will be 100% automated.
Step 1: Create your Tree-Nation ID
Please go to the Net Zero Product page: https://tree-nation.com/offset-products and select the Shopify platform.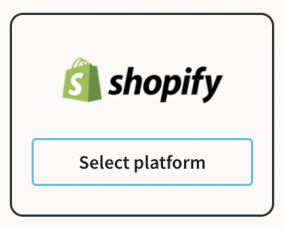 You will need to:
Log in or register as a company.
Credit your account so that trees can be planted automatically.
To make sure you don't run out of credits, please tick the auto-refill option. Click on the 'learn more' link for more details.
Proceed to the next page to receive your code:
You will then receive a code that looks like this:

Step 2: Install the app in your Shopify store
From the same page where you are, you can choose whether to install the app directly from this page or from the Shopify app store. In both cases the process is very similar:
If you install it from this page, fill in your Shopify store name (without .myshopify.com), click the 'Continue' button and skip to step 4.

If you plan to install the app manually, copy your Tree-Nation ID from this page.
Go to the Shopify App Store page and install the 1 Product 1 Tree app.
On the authorization screen, click the 'Install' button to complete the installation.

Step 3: Configure the app
Paste the Tree-Nation ID you received in Step 1 and click on 'Save'.
(If you chose the direct installation, your Tree-Nation ID will be already filled.)

That's it!
Step 4: Now, test it out!
Make a purchase of a product in your shop to make sure you receive your tree in your email!
Important: When doing your test purchase, do not use the same email you use in your Tree-Nation account. Otherwise, our system will detect that you are the tree sender as well as the tree recipient and no gift email will be sent. Use any other email and it will work.
Option - Customization
Please click here to make any customization changes.
Tools for your website and communication
Please click here to access tools for communicating about our partnership.