The Tree-Gift is the nicest way to make your planting effort tangible.
At Tree-Nation we are committed to making tree planting fun, easy, and meaningful! That's why when you plant or offer trees on our platform, you can customize your action by adding a personalized message and picture to your tree. You can also choose the language you want your email to be sent in.
How it works:
When you are offering a tree, there is a step to dedicate the tree. You can upload original content to your tree, but our platform also offers different themes and collections with unique images you can add to your tree while personalizing it. Click on 'Add a picture/video' while planting your tree and scroll through our 'Themes' section to discover original planting ideas!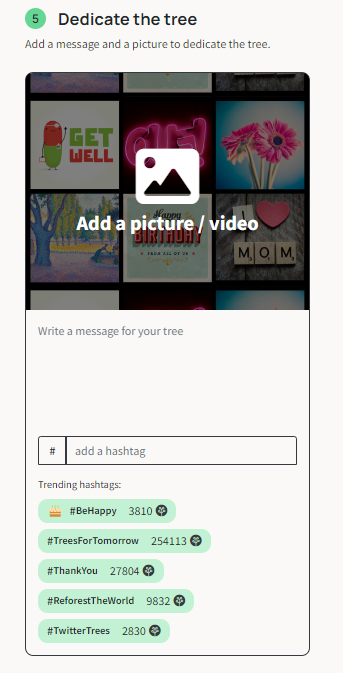 Inside themes you will find the images we have created to facilitate the customization of your Tree-Gift: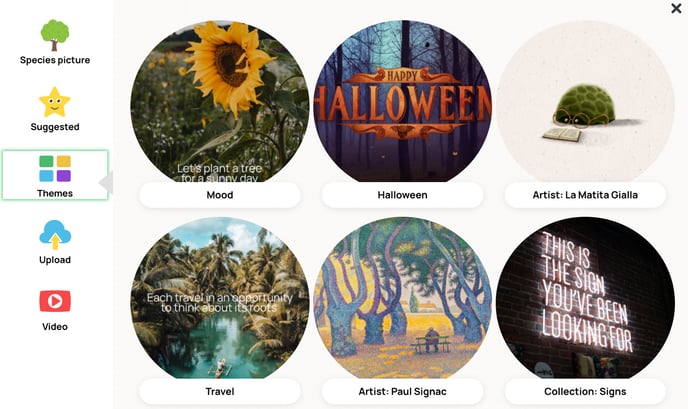 Tree-Gift messages :
Find some inspiring examples to create your personal tree gift message:
Thank you for planting your tree and being a part of making the world a better, more sustainable place. Sustainability is one of our main pillars at [Brand name] and you are a huge part of the change we are creating.
Thank you for being part of our journey! Your purchase has meant that the above tree has been planted. Let's help our planet together step by step!
You are now part of this citizen's solution to fight climate change! Your actions can make a huge difference on our planet!
You are now part of this citizen's solution to fight climate change! Your actions can make a huge difference on our planet!
Thank you for planting a tree with [Brand name]! Together we can make a big difference <3
Language settings for my Tree-Gifts:
The language of the Tree-Gift email can be set. The Tree-Gift collect and certificate pages are automatic and need no settings.
Your Tree-Gift emails can be sent in the language of your preference, among our supported languages. We currently support 6 languages on our website. If your customer is using any other language, their email will be sent in English.
The Tree-Gift 'collect' page on our website or the tree-certificate works differently. They have no pre-defined language settings but will automatically adapt to the language of the browser used by the Gift recipient. For example, if your recipient uses a Chrome browser set in French, they will by default see their certificate in French.
An exception to this rule is if your recipient is already a Tree-Nation member. In this case, the language displayed will be the one defined in its Tree-Nation account settings.